DOCUMENTARY FILMMAKER. PHOTOGRAPHER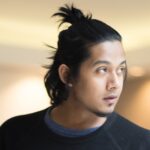 Hello, I am Asutosh Kashyap. Loving snakes and finding stories with people through my camera has been one of my most favourite things to do.
I was brought up in upper Assam, Jorhat and just like little Ellie I have always dreamed of a hurricane that will take me to somewhere and to another country, and to be honest I did end up in an another country with the royal culture, but it's not the hurricane that took me there, it was my passion and my want to gain more knowledge about my field that gave me the courage to go to London Film Academy and learn more about the definitions of shadows and contrast or in short how to Visually tell a story. I was always fascinated by the various expressions and emotions that a person carries, when I started capturing them and I slowly learned how much I love being with people and to work for them. Being somewhere in the 11th year of my profession I think it's time to share my little bit of experience and knowledge with the youngsters to guide them with various perspectives. And keeping that in mind I have created this website for you all so you get access to my works and thoughts about everything that surrounds me.
Want to see more? Subscribe to my Youtube Channel!
Follow me for more! @asutosh_kashyap